Choila is a Newari word for meat cooked directly over the fire.
So, as the name gives away, choila is a dish made by spicing up grilled meat using different Nepalese spices. Traditionally, it is made with buffalo meat and is an essential food item needed in religious and cultural rituals of Kathmandu's natives, the Newars. 
However, in Nepal, choila has transcended all boundaries – cultural, religious, cast-based, or class-based.
Although choila belongs to a particular indigenous community, today, it is a food loved and eaten regularly by Nepalese from all walks of life. It is a staple dish in just about any Nepali restaurant. 
It can be eaten as an appetizer, a snack to accompany drinking, or as a part of the popular samay baji set (main course). 
For today's blog, I documented the process of making choila step-by-step authentically. My mom made it last weekend for my brother's birthday. 
The recipe was handed down to my mother by her great-grandmother. 
On Google, I came across different iterations of choila that featured cumin powder, coriander powder, and onions, among others, as ingredients for choila. 
I'm sure these recipes are good on their own accord but note that the authentic Newari recipe for choila doesn't include any of these 3 ingredients. 
So, without further ado, let's look at how choila is made the traditional way.
Chicken Choila Ingredients: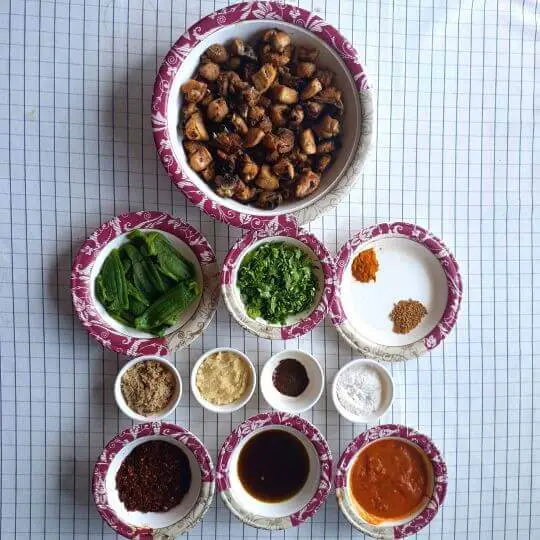 900 grams (2 pounds) Boneless chicken cut into cubes (you can use regular chicken too)
4 tbsp sunflower oil 
2-3 tbsp ground garlic 
2-3 tbsp ground ginger 
4 medium Tomatoes (roasted and pureed)
2 bell pepper (roasted and cut into thin slices)
2 tbsp ground dried red chili powder 
1 tsp schezwan pepper
4 tbsp mustard oil 
1 tsp turmeric 
1 tsp fenugreek seed
Coriander (for garnish)
Lemon juice 
How To Make Chicken Choila? | Directions
Prepare The Meat 
Boil the meat on medium heat in a saucepan. Add a pinch of salt, schezwan pepper, and turmeric to eliminate the raw chicken smell. Drain the chicken once it is boiled. 
Heat up sunflower oil in a non-stick pan and add the chicken. Pan-fry the chicken on medium heat until it turns golden brown. 
Here's a picture for your reference.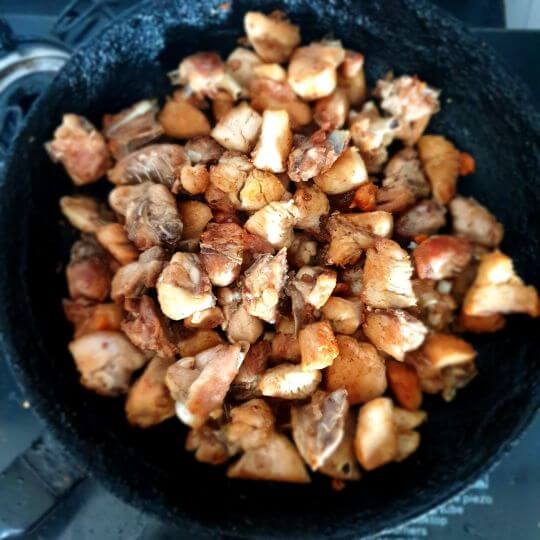 Next, transfer the fried chicken into a grill basket and place it over the fire for a few seconds on both sides for smoky flavor. You can also use skewers. 
Here's a picture for your reference.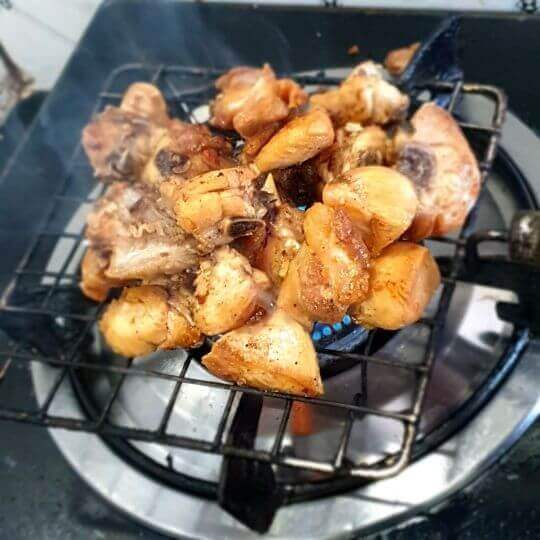 You can skip all of these 3 processes if you cook the meat directly over the fire. By the way, this is how the meat is prepared to make choila the traditional way. 
If you want to go this route, ensure the meat is well cooked and slightly charred. Aim for medium-well.
Let the chicken sit for cooling.
Prepare The Ingredients 
Roast tomatoes directly over the heat or in a saucepan. The tomatoes should be thoroughly cooked all the way and easy to squish. Once the tomatoes cool down, put them in a grinder and make the puree.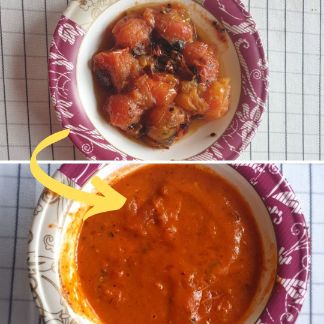 Grind dried red chili into powder. The powder's consistency doesn't have to be too fine.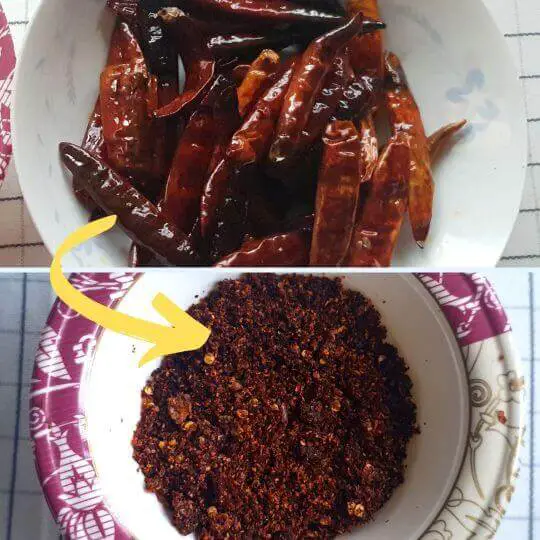 Roast capsicum directly over the heat or in a saucepan until it is cooked and slightly charred. Julienne into thin, long strips.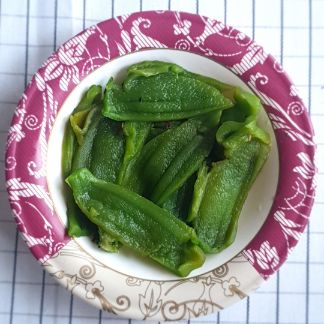 Prepare ginger and garlic separately using a food processor or a mortar and pestle. I'd recommend using a mortar and pestle if available. You don't want the consistency to be too fine.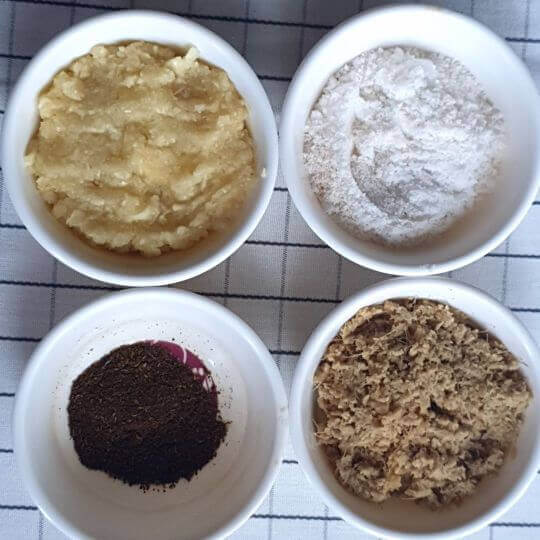 Chop coriander. 
Mix Ingredients 
Transfer the chicken to a mixing bowl. Add salt, schezwan pepper, powdered dried red chili, tomato puree, capsicum, garlic, and ginger, and mix well. If you want to mix with your hands like I did, make sure to wash your hands before and after mixing everything. 
Heat up mustard oil in a small pot. Once the oil is hot, add fenugreek seed and wait until they turn black. Next, remove the pot from the heat, add turmeric and immediately pour the hot oil over the chicken. Mix well once again. 
Garnish 
Garnish with coriander and top with some lemon juice. Serve with crunchy beaten rice or bread. 
Not all like to read a 1000-word recipe article. So, I have prepared a short clip for quick learners 😉
Frequently Asked Questions 
What Is Nepali Choila?
Nepali choila is a popular spicy meat recipe traditionally made with buffalo meat cooked over fire. These days, the dish is made with other kinds of meat like pork, chicken, mutton, and duck meat.
There are even vegetarian and vegan iterations of choila made with ingredients like mushroom and soya chunks. My personal favorite is mushroom choila. 
What Is Haku Choila?
In Newari, haku choila literally translates to black grilled meat. When cooked directly over the fire, the meat becomes charred as it cooks. Thus, the moniker. 
These days, it's commonplace to simply boil or pan-fry the meat before making choila. So, if you see 'haku choila' on the menu, know that the meat is prepared by cooking it over a fire.
Haku choila encapsulates the tenderness and smoky flavor perfectly. As a matter of fact, this is the "original" way to make choila. 
What Is Included In Chicken Choila Set?
Chicken choila set is a mainstay in just about any Newari restaurant in Nepal. It's often served as a main course. 
Besides a generous serving of chicken choila, the set includes baji (beaten rice), musya–paalu (roasted black soybeans mixed with spices and ginger), waucha (cooked spinach), bodi (boiled and spiced black-eyed peas), aalu (boiled and seasoned potatoes), aalu tama (bamboo shoot and potato curry), wo (lentil flatbread), dhau (yogurt) and aila (traditional liquor).
What Is Chicken Choila Momo?
Chicken choila momo is a popular fusion dish that combines two of the most loved dishes in Nepal: chicken choila and chicken momo. 
The momo (dumpling) is first steamed. Once it is cooked, it is mixed with chicken choila so that the choila's spicy flavors are transferred to momo's wrapper. 
Chicken choila momo is now available in most restaurants in Kathmandu, Nepal. I tried it once at a momo restaurant chain called Bota, which was delicious!
Recommended Readings!
Jalapeño Juice Recipe? Use This Trick!
Is Homogenized Milk Whole Milk? Nothing But The Truth!
Labouchere Sauce Recipe? Insider Spills The Beans | Alternative Sauce
Leftover mussels? Here's What You Should Do!
What To Do With Leftover Clams? 2 Easy Hacks!