Like most shellfish, clams should be eaten immediately after being cooked. But if you're like me, I'm sure you overestimated how many clams you needed. 
I won't blame you! They are cheap, easy to make, and, best of all, super delicious. So, what to do with the leftover clams?
In this blog, I will share 2 quick recipes that will put your leftover clams to good use. 
So, let's begin without further ado! 
What To Do With Leftover Clams?
Clams shouldn't be stored for too long once they're cooked. However, if you have ended up with some leftover clams, I've two easy recipes for you: clams pasta and creamy clams chowder. Both recipes are easy to follow and require just a few ingredients that are almost always available at home. 
Clams Pasta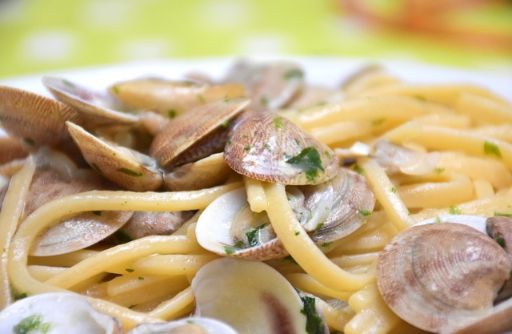 Preparation Time: 5 minutes 
Cooking Time: 10 minutes 
Yield: 2 bowls 
Ingredients: 
Leftover clams in broth 
Chicken stock (if there is no or not enough broth)
½ lb (226 grams) dried linguine/spaghetti 
1 tablespoon unsalted butter 
Parsley 
Extra virgin olive oil 
Salt to taste
Pinch of black pepper 
Mixed herbs 
Instructions:
Boil some water for the pasta and add a pinch of salt. I used spaghetti in my recipe, but you can use any pasta as long as it's long and dried, like linguine or fettuccine).
Remove leftover clams from their shells and reserve them with the remaining broth. 
Add pasta to the boiling water and cook for about a minute less than what the instructions say. 
Warm the clams in the remaining broth slowly in a large saute pan on low heat. The clams will turn rubbery if you boil too much or too long. If there's not enough broth, add some chicken stock. For ½ lb pasta, you'll need about a cup of broth for sauce. 
Add a tablespoon of butter and stir it for a richer taste. Also, add a pinch of pepper and mixed herbs. (These steps are optional)
Once the pasta is done, add it to the saute pan and let it cook in the broth for a minute or so. Then, gently toss the pasta so it's coated with sauce on all sides. 
Transfer clams pasta to bowls, drizzle some olive oil, and garnish with parsley. 
And you're done!
By the way, the same recipe can be followed for leftover mussels. Just replace clams with mussels and add pasta of your choice – voila, leftover mussels pasta! 
Recommended Readings!
How To Make Soda Flat? 6 Guaranteed Methods!
Can You Freeze Pizza Hut Pizza? Answer By Pizza Hut Employee
Too Much Lemon In Sauce? Try These Hacks! 
Now, let's move on to another recipe, shall we?
Creamy Clams Chowder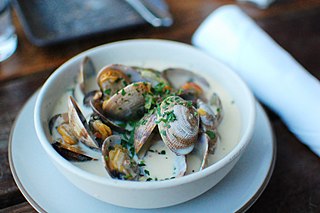 Preparation: 10 minutes 
Cooking time: 20 minutes 
Yield: 4 bowls 
Ingredients:
4 dozens of cooked clams 
6 tbsp butter 
4 ribs celery (chopped)
4 large potatoes (cubed)
1 onion (finely chopped)
2 cups corn
2 tbsp garlic paste 
3 cups chicken stock 
16 oz clam juice 
2 cups heavy cream 
1 cup white wine or dry wine 
Crumbled bacon for topping 
Chopped green onion for topping 
Sea salt to taste 
Pepper to taste
Instructions: 
Boil cubed potatoes in a small saucepan for about 15 minutes on medium heat. Drain and set aside. 
Heat butter on medium heat in a big saucepan until it's bubbling. Next, add chopped celery and cook for around 2 minutes. Then add corn and chopped onions. Cook for 2 minutes more. Now, add garlic and cook for a minute.
Add flour into the saucepan and stir with a whisk. Stir frequently and cook until bubbles form. It should take about 1 minute. 
Next, stir in cooked clams, chicken stock, and leftover clam juice. Add heavy cream and white wine, and simmer for 5-6 minutes. 
Lastly, gently stir in cooked potatoes. Add sea salt and pepper to taste. 
Transfer into bowls and top crumbled bacon and chopped green onions. 
If you simply want to reheat leftover clams, pay attention. I don't want to sound too dramatic, but one small mistake and your clamps are nuked forever. They won't just become rubbery and tasteless but also give out an off-putting scent. 
How To Reheat Leftover Clams?
Speaking from experience, the best way to heat clams is to first heat the dish you're serving them with. It can be soup, pasta, broth, or rice. Deshell the clams while the dish is boiling. As soon as the dish is heated, take it off the heat and add the clams. Mix well. 
The residual heat will reheat the clams without affecting the taste or texture. 
Of course, don't reheat the dish once again after adding the clams. The clams will absorb too much liquid and become mushy. 
Steaming the clams also works well but microwaving will make them rubbery and give off a weird smell.
To reheat clams in a steamer:
Set up the steamer and boil some water.
Add some lemon juice to enhance flavors.
Once the clams are deshelled, arrange them evenly in the steaming basket and steam for 30-60 seconds. 
Serve immediately after steaming. Otherwise, the clams will develop a rubbery texture soon. 
How To Store Clams?
Clams can be stored in a number of ways, depending on what state they're in. Based on how you keep them, they can have a shelf-life of up to 6 months. 
How To Store Fresh Clams?
Fresh clams need to be refrigerated. So, store them in a breathable bag and place them in the back of your fridge. If you don't have a breathable bag handy, simply place the clams in a large bowl and cover them with a damp cloth or kitchen towel. 
Clams stored this way can last for a day or two. 
The best way to savor clams is to consume them on the very day of purchase, but you can chill them overnight if required. 
How To Store Cooked Clams? 
Cooked clams don't have a very long shelf-life. However, you can drain and store them in an airtight container. Goes without saying – place the container in the refrigerator. The clams can last for 4 days at best.
How To Freeze Clams?
I wouldn't recommend freezing cooked clams as there's no way you can stop them from being rubbery. However, you can freeze fresh clam meat on its own or with the shell. 
For individual clams, shuck them and rinse the meat under running water. Once drained, place in a freezer-safe container. Drain using a colander.
To freeze clams inside the shell:
Run them under water to clean them.
Handpick clams with tightly closed shells as ones with an open shell will go bad.
Seal the clams in an airtight container and freeze. 
Don't rinse clams with hot water. It will only encourage the shells to open. 
Clams can be frozen for up to 3 months. 
Frequently Asked Questions 
Before we end this article, let's briefly look at some of the most frequently asked questions. 
Can You Eat Cooked Clams The Next Day?
Yes, you can safely eat cooked clams the next day, provided that they are refrigerated in an airtight container. However, if the clams were left at room temperature, they will be contaminated with harmful bacteria that mostly thrive at temperatures ranging from 40 degrees F to 140 degrees F. 
The average room temperature in the US clocks in around 68-72 degrees F. 
How To Store Leftover Mussels?
Drain the mussels in a colander, transfer them to an airtight container, and store them in the fridge. The mussels can last you for up to 4 days. Freezing cooked mussels will only make them rubbery and tasteless. 
Can You Freeze Leftover Mussels? 
You can freeze leftover mussels per se, but the resultant mussels will be chewy and rubbery. 
Final Words: What To Do With Leftover Clams?
You can make clams pasta or creamy clams chowder using leftover clams. Making clams pasta takes just 15 minutes in total and requires staple ingredients like mixed herbs, butter, and of course, some pasta. Making creamy clams chowder is a bit more time-consuming and requires some extra ingredients, but it will be worthwhile. You'll need 30 minutes in total to make it. 
Recommended Readings!
Can You Freeze Cannoli Cream? Don't Make This Mistake! 
Do Cannolis Have To Be Refrigerated? How Long Do They Last?