Image Credit: JefferyW (CC License)
Coming from the other corner of the world, a rather far-flung one, I didn't know what mac and cheese was until my late 20s. Now, this might reflect poorly on the credibility of this page – but oh well, it is what it is. 
While at it, let me confess one more thing. I didn't exactly know right off the bat if you could broil mac and cheese. I'm sure the blog's credence is down the drain. 
Fret not – I'm going all out for redemption – yes, I know that sounded a lil dramatic. This blog won't just shed light on if you can broil mac and cheese or not but will also include a couple of bells and whistles that'll make this an interesting read. Let's begin. 
Can I Broil Mac And Cheese?
Mac and cheese is traditionally made in the oven or in a saucepan. Once it's cooked, you can broil it for that scrumptious crust. If you don't want to go through the hassle of baking but miss the crunchy top, broiling is what you're looking for. 
Broiling is hands down the best method to add a crispy, cheesy top to your mac and cheese. Just make sure that you're careful while broiling it. It can go from crispy brown to burnt in just a few seconds. 
If you like your mac and cheese creamy and with a soft texture, I'd recommend baking all the way. Simply bake the dish in a preheated oven at 375 degrees F for 20-25 minutes – until thoroughly heated through and cheese is melted. 
After a lot of trial and error involving several batches, I finally cracked how to achieve that crunchy top when you don't have an hour on a busy weeknight to bake macaroni casserole the traditional way.
Let's find out how. 
How To Broil Mac And Cheese?
After cooking mac and cheese on a stovetop, you should top the dish off with buttered breadcrumbs and put the whole thing under the broiler to brown for two minutes. 
Voila – you will end up with a casserole that's cheesy and creamy on the inside and crunchy on the top – all ready in just a few minutes. 
While at it, let's get a few things out of the way. 
What Is Broiling? When Should You Broil Food?
To put it simply, broiling uses top-down heat at high and extra-high temperatures to crisp or brown the top of the food. Broiling involves using only the upper heating element of the oven, applying high temperatures between 500 to 550 degrees Fahrenheit to the top of the dishes for fast flavor. 
This method is best used to crisp delicate foods or brown top of already-cooked dishes. Since broiling involves working with high temperatures, you ought to keep a close eye on the cooking process. 
Other than cheesy mac and cheese that can be elevated with a brown, crunchy layer on the top, other food like thin-cut meats, quick-cooking veggies like zucchini and peppers, and white bread that need a quick toast can be broiled.
There was this recipe I found online, which I then improvised to incorporate broiling at the end, and it tasted heavenly! Unfortunately, I cannot find the recipe now to give proper credit, but I think I know the steps by heart. 
Broiled Mac And Cheese Recipe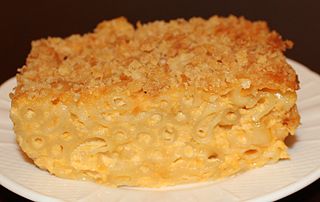 Total Time Taken: 1 hour 30 minutes 
Yield: 8 to 10
Ingredients:
¾ pound elbow macaroni 
2 eggs 
1 cup whole milk 
1 cup half-and-half
1 ½ cups heavy cream 
½ tablespoon kosher salt 
½ teaspoon freshly grated nutmeg
Extra virgin olive oil for drizzling 
4 ounces cold cream cheese (cut into small cubes)
1 ½ cups shredded Monterey Jack cheese 
1 ½ cups shredded extra-sharp cheddar cheese
1 ½ cups heavy cream 
½ teaspoon freshly grated nutmeg
¼ teaspoon freshly ground white pepper 
Instructions 
First, preheat the oven to 350 degrees F. Next, take a large pot of boiling, salted water, and cook the macaroni for 3 minutes. It will still be quite chewy but don't worry. Drain the macaroni and place it back into the pot. Drizzle lightly with olive oil and toss well. 
Now, generously butter a 10-by-15-inch baking dish. Whisk half-and-half, heavy cream, eggs, nutmeg, milk, salt, and ground pepper in a large bowl. Then, stir in the cheddar and Monterey Jack cheeses and the macaroni. Evenly spread the mac and cheese in the prepared baking dish and scatter cream cheese cubes on top. 
Bake the macaroni for 6 minutes. Use the back of a big spoon to spread the melted cream cheese cubes evenly over the surface. Bake for the next 40 minutes. It should be bubbling by the end.
Now, remove the baking dish from the oven and preheat the broiler. Broil mac and cheese around 3 inches from the heat source until it turns a rich brown shade. This should take about 2-3 minutes. Finally, let it stand for at least 10 minutes and up to 20 minutes before serving. 
So, that's all for today's blog – you can broil mac and cheese. Do so for a couple of minutes for a crispy top. Don't forget to tune in for the next article.
Recommended Readings!
What Is Calabash Chicken? Why's It So Confusing?
White Spots On Shrimp | Harmless Or Disease-Ridden?