Image Credit: JeffreyW (CC License)
Calabash chicken is hands down one of the most palatable dishes I've had the chance to devour in the States. Once I returned home, I tried to recreate this dish for my family one lazy afternoon – courtesy of a recipe from South Your Mouth. 
Needless to say, it was a hit. 
The history buff in me became curious about the story behind this iconic dish. And lo, here's the article. 
What Is Calabash Chicken?
"Calabash" is a method of frying that uses just a light dusting of breader instead of a heavy batter. As the moniker suggests, this term originated in Calabash, North Carolina, as a technique for frying shrimp and other seafood. 
The fried chicken has a crispy exterior and juicy, tender meat. 
Depending on the choice of meat and preference, some recipes call for flour, some use cornmeal, and some need a mix of both. However, a couple of things common in all recipes are the generous use of black pepper and marinating in milk or buttermilk. 
I couldn't exactly decode the timeline of when calabash chicken was first coined or made, but Fatz Cafe, headquartered in Southern California, claims to have pioneered the recipe back in 1988. 
Note that the calabash frying style for seafood was developed around the 1930s. 
Today, Calabash chicken is a staple item served in food joints across South Carolina and the rest of the country. It is a classic example of Southern cuisine and is relished by locals and visitors alike. 
I particularly liked "calabash chicken and shrimp" from Fatz Cafe. It's a shame I don't get to eat it here in Nepal 🙁
Don't Get Confused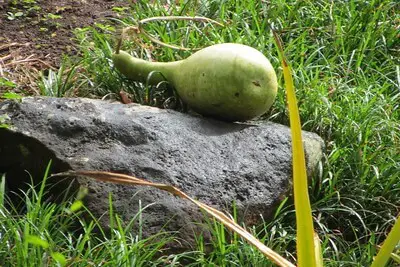 While researching for this article, I found something quite interesting. It turns out there's another entirely different dish with the same name – yes, it's also called calabash chicken. 
It's a traditional Caribbean dish that's literally cooked in a calabash, a common type of gourd found in the Caribbean region. This particular gourd makes an ideal cooking vessel due to its ability to retain heat and flavor. 
Apparently, the chicken is simmered in a thick, flavorful sauce made with a combination of herbs, spices, and veggies. Sounds delectable! 
The dish is served with rice, a side of fresh veggies, and savory sauce. 
Now, before we end this article, here's a quick look at an easy recipe I found online. It's from John-Boy (Thanks, John) and was published in Stroller Cookbook. 
Easy Calabash Chicken Recipe 
Ingredients For Chicken:
12 chicken filet strips 
Refined peanut oil (for frying)
1 teaspoon salt 
1 teaspoon pepper 
½ cup kosher salt 
½ teaspoon dried sage 
¼ teaspoon dried thyme 
2 cups all-purpose flour 
2 cups buttermilk
Ingredients For Dipping Sauce:
1 cup mayonnaise 
1 cup milk 
1 cup Hidden Valley ranch dressing 
Instructions:
Mix salt, thyme, and sage in a plastic bag. Add chicken strips to the same bag and toss until every piece is lightly coated. Tightly seal the bag and refrigerate it for 8 hours for marination. 
If you're short on time, you can refrigerate it for just an hour or two. 
Next, rinse the chicken slightly under running water and put them in a shallow dish. Pour buttermilk over the chicken, cover the bowl with plastic wrap, and refrigerate overnight. 
The next day, combine flour, salt, and pepper in a shallow dish. Also, drain the buttermilk from the chicken but don't dry them. Dredge the chicken in the flour mixture. 
Heat a large skillet or sauté pan over high heat. Now, add an inch of peanut oil and heat until almost smoking. 
Carefully dip chicken strips in the hot oil, ensuring enough space between the pieces. Lower the heat to medium and cook the chicken for around 10 minutes on each side or until golden brown. 
Once the chicken strips are cooked, drain them on wire racks with paper towels underneath. Voila, your chicken is ready! 
For the dipping sauce, mix all the listed ingredients in a serving bowl and chill in the fridge before serving. 
So, that's it for today's article. The next time I make calabash chicken, I'll share the photos with you guys. Make sure to send us yours if you try this recipe. 
See you on another blog!
You May Also Like:
Can I Broil Mac And Cheese? Try This Recipe Instead!
White Spots On Shrimp | Harmless Or Disease-Ridden?